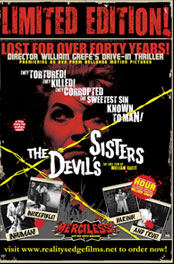 THE DEVIL'S SISTERS

PROJECT DETAILS:
William "Wild Bill" Grefé's film noir masterpiece,thought to be
lost for over 40 years, now restored and available for the first time
on DVD. Based on an actual story of human trafficking and
prostitution in Mexico in the 1960's. The Devil's Sisters was
thought lost forever as all 35mm prints were believed to have been
destroyed. Using the internet, Grefe tracked down a copy of the
original owned by a German collector, and now made available to you.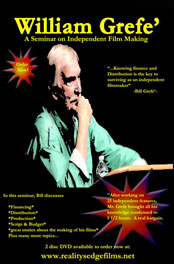 WILLIAM GREFÉ: A Seminar on Independant Film Making
PROJECT DETAILS:
With over 40 years of experience as a producer, director,
writer and one-time studio head of Ivan Tors, William Grefe
has compiled his knowledge of feature filmmaking into a
5-1/2 seminar. Contains information that will benefit both
first-time and experienced filmmakers.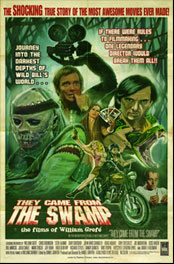 THEY CAME FROM THE SWAMP: The Films of William Grefé
PROJECT DETAILS:
Here comes the most shocking collection of film trailers
this side of the Mason-Dixon line! Journey into wild
world of director William Grefé, badass bikers,
maniacal mountain men, diabolical drug dealers, and
monstrous hell-beasts from the darkest depths of the
Florida everglades!
THEY CAME FROM THE SWAMP: The Films of
William Grefé– An all new, feature-length documentary film.